Hello from Smokin Sam from Smithers, BC, Canada. I have been a motorcycle tech for lots of years. I work on all kinds of bikes from MXers and dual sports to Wings and other big cruisers. It has been said that you could take every nut and bolt out of your Harley, throw them in a barrel and roll it into my shop, dump it out on the floor and come back to a running motorcycle before very long. Building reliable performance V-Twins is my thing. I have serviced, modified and assembled lots of factory bikes but this year I became a bike builder and built my first ground up bike. I call it the Panhandler and just had to post a pic.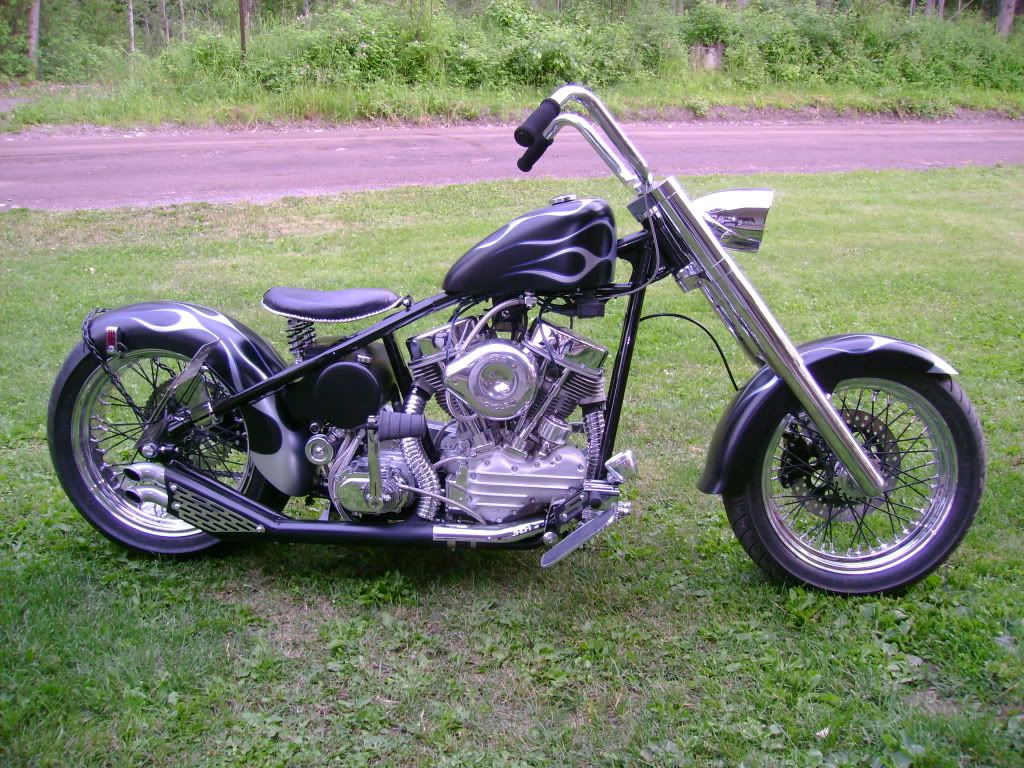 Specs:
Motor is a 93 cu in S&S Panhead 10:1
Trans is a 5 speed Rev Tech with an Auto Clutch and a hand banger
Drve is a 3" BDL with an electric leg
Frame is a 34* Kraft tech
Front end is a2" over, +3* Big Un
Exhaust is hand made by Sam at Eyecandy Custom Cycles
Dual foot brake control designed in house
Braided steel fender strut was hand made in house.
Paint by JB's Custom Colors
Seat is snakeskin by Leather by Shannon
For an introduction; my wife and I run a small motorcycle shop called Eyecandy Custom Cycles. We are the last shop on the way to Alaska and the first one you hit on the way south. I promise I won't spam anyone here but please know that there is always help on the road north or call me for a little free advice.